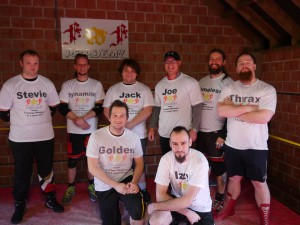 De FWF Academy is de officiële wrestling school van de Flemish Wrestling Force.  Al 10 jaar trainen wij Pro-Wrestlers die nu over de hele wereld actief zijn.
Droom jij er al jaren van om een Pro-Wrestler te zijn?  Dan is de FWF Academy je eerste grote stap in de echte worstel wereld.
Wij bieden niet alleen een degelijke basisopleiding aan voor beginnende worstelaars, maar ook de meer gevorderden kunnen bij ons terecht om hun skills wat bij te schaven.
Twee maal per week zijn er trainingen in Tessenderlo, België en al onze trainingen vinden plaats in een echte wrestling ring.  Wij bieden onze studenten ook de kans om deel te nemen aan trainings seminars van gast trainers als Joe Legend ( WWE ), Kishin Kawabata ( NOAH ), Joe Cabray ( NXT ), Dusty Wolfe ( WWE ), Tommy End ( CZW ), …
Wil jij aan je training beginnen?  Aarzel dan niet en contacteer ons via info@fwf-wrestling.be of (0032) 476/ 71.49.99.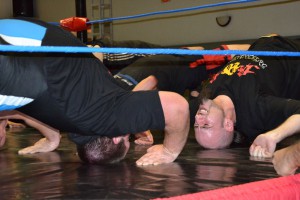 The FWF Academy is the official wrestling school of the Flemish Wrestling Force.  For over 10 years, we've been training pro-wrestlers, who are active all over the world.
Is it your life long dream of becoming a pro-wrestler?  Then the FWF Academy is your first step into the real world of wrestling. 
We offer a proper basic wrestling education for the novice wrestlers.  But the more experienced wrestlers can also come and hone their skills in our advanced classes.
Who hold training sessions twice a week in Tessenderlo, Belgium.  All training sessions take place in an actual wrestling ring.  We also offer our students the chance to attend seminars by guest trainers like Joe Legend ( WWE ), Kishin Kawabata ( NOAH ), Joe Cabray ( NXT ), Dusty Wolfe ( WWE ), Tommy End ( CZW ), …
If you want to start training, feel free to contact us at info@fwf-wrestling.be or ( 0032 ) 476/ 71.49.99.